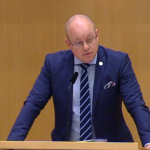 DEBATT Björns anförande vid den allmänpolitiska debatten i riksdagen den 17 oktober 2018.
Herr talman,
Ansvaret för de allra flesta av världens flyktingar vilar på FN:s flyktingorgan UNHCR. Flyktingarna definieras enligt 1951 års Genèvekonvention. Det finns dock en grupp som urskiljer sig från alla övriga och det är 5,4 miljoner palestinier i Jordanien, Libanon, Syrien, Gaza, Judeen och Samarien. Dessa är registrerade som flyktingar enligt UNRWA – en starkt kritiserad FN-organisation.
UNRWA har många gånger kritiserats för korruption och för sitt antiisraeliska och antisemitiska utbildningssystem. Förra året avslöjade den icke-statliga organisationen UN Watch (Poisoning Palestinian Children – A Report on UNRWA Teachers Incitement to Jihadist Terrorism and Antisemitism) UNRWA-anställdas antisemitism och våldsbejakande extremism. Detta föranledde mig att ställa en fråga till biståndsministern angående Sveriges stöd till organisationen, vilket då uppgick till hela 370 miljoner kronor. Svaret från Isabella Lövin var, och jag citerar "Regeringen har därmed fullt förtroende för att UNRWA och dess personal kan utföra sitt viktiga mandat, och ser ingen grund för att ifrågasätta UNRWA:s opartiskhet." Slut citat.
Detta trots att 41 namngivna anställda på UNRWA hyllade Hitler, spred antisemitism och gav stöd till terrorism på sina Facebooksidor.
UNRWA bildades för att ta hand om de palestinska flyktingarna efter att arabländerna förlorade sitt anfallskrig mot Israel 1948. De judiska flyktingar i arabländerna som, i samband med kriget, fick sina hem konfiskerade och tvingades att fly gavs ingen större hjälp från omvärlden medan man skapade UNRWA för palestinierna.
UNRWA understödjer palestinier som lever som fullständiga medborgare i bl a Jordanien men också som styrs av de palestinska myndigheterna. Flyktingstatusen går i arv och vi är nu inne på fjärde generationen, som fortsätter att erhålla flyktingstöd från FN-organet. Ingen annanstans kan någon grupp ärva flyktingstatus. Det är sannerligen mycket märkligt då många av dessa palestinier har etablerat sig i andra länder och där till och med erhållit medborgaskap. Men enligt UNRWA är de fortfarande flyktingar och erhåller därmed stöd. Man kan med fog anta, vilket också flera bedömare i Israel och västvärlden gör, att arabvärlden och världssamfundet håller den palestinska flyktingsituationen vid liv för att den skall användas som ett politiskt vapen.
I detta spel deltar Sverige genom sina stora bidrag av skattemedel. Och nu har den före detta utrikesministern Margot Wallström utlovat nya miljarder till UNRWA. Dagen efter att hennes chef statsminister Löfven avsattes av riksdagen flög hon med regeringsplanet till New York för att samla in pengar till organisationen. Detta skedde tillsammans med bland andra Jordaniens utrikesminister och i närvaro av Islamiska konferensen och Arabförbundet, vilket tidningen Inblick avslöjat.
Men redan strax före valet lovade hon att skänka två miljarder svenska skattekronor till UNRWA under fyra år. Sverige skall alltså fortsätta skänka pengar till en organisation som gång efter gång kritiseras för korruption, antisemitism och hyllningar till terrorism. Det får vara slut nu!
Socialdemokraterna kampanjar för att stå på rätt sida av historien. Den sida de anser är rätt är nog ingen mer än de själva som vill stå på. Den sida som de valt att stå på har allt för oftast genom historien varit samma sida som blodbesudlade diktaturer runt om i välden. På den sidan får de stå själva.
Tack, herr talman.