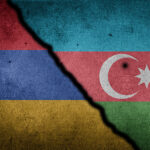 We, the undersigned Members of the Sweden-Armenia Friendship Group of the Swedish Riksdag, are deeply concerned about the establishment of a checkpoint on the Lachin Corridor by Azerbaijan.
The checkpoint on the Lachin corridor undermines efforts to establish confidence in the peace process and is a clear violation against provision 6 in the trilateral agreement of November 9, 2020.
We reiterate that there should be free and open movement of people and commerce on the Lachin corridor. We call on the parties to resume peace talks and refrain from provocations and hostile actions along the border.
BJÖRN SÖDER (SD)
ARIN KARAPET (M)
MARKUS WIECHEL (SD)
HÅKAN SVENNELING (V)
YUSUF AYDIN (KD)
ALEXANDER CHRISTIANSSON (SD)
ERIK HELLSBORN (SD)
MAGNUS OSCARSSON (KD)