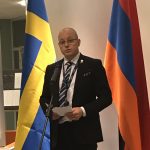 UTSTÄLLNING Välkomstord som hölls den 27 november 2018 i samband med öppnandet av utställning i riksdagen om armeniska folkmordet och Skandinaviens gensvar.
Members of parliament,
Yours Excellences,
Dear ladies and gentlemen,
I wish you a warm welcome to the Swedish Parliament and to this exhibition regarding the Armenian genocide and Scandinavian response.
The background to this exhibition is a trip I did as a Deputy Speaker last spring to Armenia. In connection with placing a wreath at the Armenian Genocide memorial in Yerevan the Deputy Speaker Eduard Sharmazanov posed the question if we here in the Swedish Parliament would be willing to arrange an exhibition regarding the genocide.
It sounded like an excellent idea. Particularly in regards to the official recognition of the genocide by our parliament in 2010, recommending the sitting government to do the same, to also acknowledge the genocide.
It is with great regret I must confirm that several governments since that time, regardless of political color, have failed and have yet to officially recognize this genocide. This is truly disheartening. It is therefore of great importance that our parliament reminds the government of this recognition.
The focus of this exhibition is to also illustrate the Scandinavian response. We have many Scandinavian heroes to be proud of. Our very own Alma Johansson is one of those. She made significant efforts, both in saving lives and in testifying to what occurred. This is of great importance as there still today exists forces, seeking to deny.
It is my firm opinion that Alma Johansson, who has been honored with a plaque at the Armenian Genocide memorial in Yerevan, deserves her own place here in our Parliament's "Room of good deeds" – "De goda gärningarnas rum", something I have put forth in a motion. I hope the Parliament will approve this proposal.
This is an important exhibition. The history of humankind is far to marred by violent deeds, conflicts, genocide and crimes against humanity. Every single discussion or manifestation aiming to prevent or avoid such acts is a contribution to a future of peace for us all. An exhibition of this kind is also a way of reminding us of the importance to never deny, but rather to remember and reflect and honor the memory of the victims.
I want to take this opportunity to thank Armenian ambassador Artak Apitonian for a truly fine co-operation in making this exhibition a reality, and I would also like to extent a warm thank you to the Union of Armenian Associations in Sweden – Armeniska riksförbundet – for providing the exhibition materials.
With these words I once again wish you welcome to the opening of this exhibition which will run to December 20th, and without further due give the word to ambassador Apitonian.
Thank you.