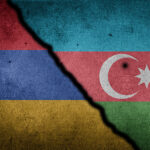 Once again, on September 19, Azerbaijan unleashed another large-scale military attack against the people of Nagorno-Karabakh. According to the Ministry of Defence of Azerbaijan, their aggression was an "anti-terrorist measure" that they launched in Nagorno-Karabakh, but instead it seems to be another attempt to complete its policy of ethnic cleansing when civilian settlements such as the city of Stepanakert, and other cities and villages are shelled.
We, the undersigned Members of the Sweden-Armenia Friendship Group of the Swedish Riksdag and members of the Swedish delegation to PACE, strongly condemn Azerbaijan's attack on Nagorno-Karabakh and the mass atrocity crime which is the continuation of the large-scale use of force unleashed against Nagorno-Karabakh exactly three years ago, in September, 2020.
The Armenian side has repeatedly warned that the continuous aggressive actions of Azerbaijan against Nagorno-Karabakh, the unconcealed warmongering rhetoric, the absolutely false and reprehensible propaganda of calling the population of Nagorno-Karabakh "terrorists" pursues one goal: to subject the population of Nagorno-Karabakh to ethnic cleansing through the use of force and deprive the population of Nagorno-Karabakh from the right to live freely and in dignity in their own homeland. The illegal blockade of the Lachin corridor, the only road connecting Nagorno-Karabakh with Armenia, since December 2022 and the total blockade of Nagorno-Karabakh pursue the same goal.
We, the undersigned, are also concerned about the disseminating false information including by the Ministry of Foreign Affairs of Azerbaijan.
We call on Azerbaijan to stop the aggression and call on international partners, members of the UN Security Council which have primary responsibility for maintaining international peace and security to undertake every action, including a UN Security Council resolution.
BJÖRN SÖDER (SD)
ARIN KARAPET (M)
MARKUS WIECHEL (SD)
MAGNUS OSCARSSON (KD)
BORIANA ÅBERG (M)
FREDRIK MALM (L)
GUDRUN BRUNEGÅRD (KD)
ALEXANDER CHRISTIANSSON (SD)
YUSUF AYDIN (KD)
FREDRIK AHLSTEDT (M)
ERIK HELLSBORN (SD)