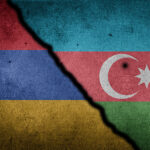 We, the undersigned Members of the Sweden-Armenia Friendship Group of the Swedish Riksdag and members of the Swedish delegation to PACE, condemn Azerbaijan's reported blockade of the Lachin Corridor. The blockade of Nagorno-Karabakh threatens to disrupting gas supplies and removing the primary source of food, heat, hot water, and electricity to 120,000 Armenians. This will risk severe humanitarian consequences.
We immediately call Azerbaijan to urgently reopen the corridor to ensure free movement through the corridor and security of movement along the corridor, in line with the trilateral statement of 9 November 2020.
The resolution of the situation needs to be achieved through negotiations and peaceful dialogue.
ARIN KARAPET
BJÖRN SÖDER
BORIANA ÅBERG
MARKUS WIECHEL
FREDRIK MALM