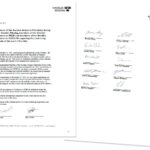 Since December 12, 2022, Azerbaijan has blockaded the Lachin Corridor – the only land route to the outside world for 120.000 Armenians in Nagorno-Karabakh. The blockade has hindered the delivery of essential supplies such as food, medicines, gas etc. This action by Azerbaijan constitutes a clear violation of human rights and can risk severe humanitarian consequences.
We, the undersigned Members of the Sweden-Armenia Friendship Group of the Swedish Riksdag, members of the Swedish delegation to PACE and members of the Swedish delegation to OSCE-PA, are deeply concerned with the current situation and we condemn the blockade backed by the Azerbaijani government and call for an immediate end to this unprovoked aggression.
As in statement made on December 15, 2022, we once again immediately call Azerbaijan to urgently reopen the corridor to ensure free movement, including for humanitarian and commercial use, through the corridor and security of movement along the corridor, in line with the trilateral statement of November 9, 2020.
We urge the government of Azerbaijan to fulfill its obligations under this statement and call for utmost restraint in terms of both actions and rhetoric.
We also call the international community to take action and prevent new humanitarian crisis in the region.
The resolution of the situation needs to be achieved through negotiations and peaceful dialogue.
ARIN KARAPET
BJÖRN SÖDER
BORIANA ÅBERG
MARKUS WIECHEL
FREDRIK MALM
YUSUF AYDIN
JESSICA STEGRUD
SVEN-OLOF SÄLLSTRÖM
HELENA STORCKENFELDT
MAGNUS BERNTSSON
BEATRICE TIMGREN
ALEXANDER CHRISTIANSSON