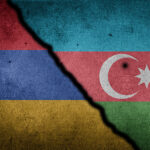 We, the undersigned Members of the Sweden-Armenia Friendship Group of the Swedish Riksdag, are deeply concerned about the situation in Artsakh (Nagorno-Karabakh).
On December 12, 2022 a group of Azerbaijani state-sponsored special services agents presenting themselves as alleged "environmental activists" blocked the Lachin Corridor (the only road connecting Artsakh with Armenia and the outside world).
As a result of Azerbaijan's illegal blockade of the Lachin Corridor approximately 120.000 residents of Artsakh found themselves under siege. Furthermore, about 30.000 citizens of the Republic of Artsakh were deprived of the opportunity to return to their homeland, thousands of them have been separated from their families.
Since January 9, 2023, Azerbaijan has disrupted the supply of electricity through the sole high-voltage line between Armenia and Artsakh, which has caused significant energy and humanitarian problems in Artsakh. There have been daily six-hour power outages, a 48% decrease in electricity consumption, and depletion of local electricity production and supply systems.
On April 23, Azerbaijan established an illegal checkpoint in the Lachin Corridor, which we in previous statement have condemned and reiterated that there should be free and open movement of people and commerce on the Lachin corridor.
Since June 15, Azerbaijan has imposed a complete blockade on the Lachin Corridor, prohibiting the transportation of any individuals or goods (including food, medicine, hygiene items, and fuel) in both directions even by International Committee of the Red Cross and Russian "peacekeepers".
The suspension of all humanitarian supplies since June 15, coupled with the utilisation of limited domestic stocks, has resulted in a worsening humanitarian situation, where food, medicine, fuel and humanitarian goods will soon be fully depleted, leaving 120.000 indigenous peoples isolated and at the brink of mass fatal consequences.
The complete blockade of the Republic of Artsakh and its isolation from the outside world, pursued with the intermediate goal of forcibly subjugating the people of Artsakh, deepens the humanitarian crisis and sets the stage for the transformation of Azerbaijan's ongoing crimes against humanity into the crime of genocide.
We call on the World Community to now put hard pressure on Azerbaijan to stop violating the provisions of the Trilateral Statement of November 9, 2020, the ruling of December 21, 2023, from the European Court of Human Rights, the orders issued by International Court of Justice on February 22 and July 6, 2023, calls by the UN High Commissioner for Human Rights, Amnesty International, Human Rights Watch, Parliamentary Assembly of Council of Europe, European Parliament, as well as other international organizations and numerous states.
We also call on the parties to resume peace talks and refrain from provocations and hostile actions along the border.
BJÖRN SÖDER (SD)
ARIN KARAPET (M)
MARKUS WIECHEL (SD)
GUDRUN BRUNEGÅRD (KD)
YUSUF AYDIN (KD)
NIMA GHOLAN ALI POUR (SD)
ERIK HELLSBORN (SD)