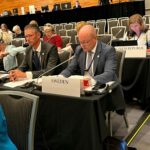 OSCE PA Statement by Mr Björn Söder in the 3rd Committee of the 30th Annual Session of the OSCE Parliamentary Assembly in Vancouver 30th June to 4 July 2023.
(In support of the Supplementary Item entitled "Condemnation of the desecration of Polish graves in Belarus") 
Mr Chair,
Europe continues to stand in before it's largest security challenge. Russia's war of aggression continues to ravage the Ukrainian country killing thousands, and thousands more. I hope that we as an interparliamentary assembly continue to support Ukraine in both the immediate existential threats, and the long-term efforts to rebuild the country.
I find it only natural that the discussions on the war in Ukraine continue to play a large role in our discussions. At the same time, we as an assembly know that there exist many humanitarian questions in the OSCE region that deserve our attention. One such issue is the desecration of polish graves in Belarus.
The Lukashenka regime continues its all too long authoritarian reign, infringing on the human rights of the people of Belarus. Under the Lukashenka regime, the country has seen great infringement on the rights of assembly and freedom of speech. Added to this, the country has seen vandalism of historical sites. One such example is the desecration of polish graves that serve as important pieces in polish history and cultural identity. Besides the great value the graves hold for the polish identity, they also serve as a collective memory of the horrors of previous wars and genocide.
As an organization that stands firm on the belief in human rights and equality, we should under no circumstances tolerate the desecration of historical sites that hold such great cultural value. We should acknowledge the inaction of the Lukashenka regime to stop the vandalism, and request an investigation of the deeds. By letting the vandalism continue, we must recognize the potential risk of racial, religious or cultural hatred of minority groups in Belarus.
This supplementary item outlines in detail the assembly's commitment to human rights and protection of cultural property. As parliamentarians that stand up for civil and democratic societies, I believe that we all can agree on the problematic aspects of the ongoing issue in Belarus. Therefore, I hope many of you support the supplementary item and in turn help work for a more humanitarian OSCE region.
Thank you.