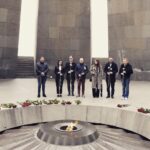 Today, April 24, for 108 years ago, the Ottoman authorities arrested and deported hundreds of Armenian intellectuals and leaders from Constantinople. At the orders of Talaat Pasha, an estimated 800,000 to 1.2 million Armenians were sent on death marches to the Syrian Desert in 1915 and 1916. Massacres and ethnic cleansing of Armenian and other Christians groups continued until 1923.
1.5 million Armenians were killed by the Ottomans. Also other Christian groups, such as Assyrians, Syrians, Chaldeans and Pontic Greeks, were killed during the Genocide.
The victims constituted more than half of the Armenian population in the region. Most of the survivors fled the country. The Ottoman Empire was largely emptied of its Christian population.
In March 2010, the Swedish Riksdag announced to the government that Sweden should recognize the Genocide and that Sweden should work within the EU and the UN for international recognition of it.
Today we all commemorate all the victims of the Genocide. And on Wednesday members of the Sweden-Armenia Friendship group od the Swedish Riksdag arrange a commemoration in the parliament.
It's important to remember and reflect and honour the memory of the victims. We shall always remember and never forget what happened.
BJÖRN SÖDER (SD)
ARIN KARAPET (M)
MARKUS WIECHEL (SD)
HÅKAN SVENNELING (V)
ALEXANDER CHRISTIANSSON (SD)
ERIK HELLSBORN (SD)
MAGNUS OSCARSSON (KD)