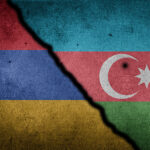 We, the undersigned Members of the Sweden-Armenia Friendship Group of the Swedish Riksdag, are horrified by videos publicized by Azerbaijani users on social media demonstrate the war crimes, extrajudicial killings of Armenian prisoners of war, torture of Armenian servicemen, including women, and desecration of corpses committed by the Azerbaijani armed forces.
We immediately call for a full and impartial investigation. Those responsible for any atrocities must be held to account.
We also call for the international community to increase pressure on Azerbaijan for the immediate repatriation of all Armenian prisoners of war and civilians illegally held in Azerbaijan, clarification of cases of enforced disappearances, and the fates of the missing persons.
ARIN KARAPET
BJÖRN SÖDER
BORIANA ÅBERG
MARKUS WIECHEL
FREDRIK MALM