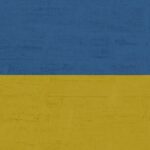 UKRAINA Min tidigare kollega i den konservativa och reformistiska gruppen i OSSE:s parlamentariska församling, Viktor Vovk, har skickat denna vädjan som jag nu ber er sprida.
"Dear Friends,
I would like to inform you that in the face of the full scale Russian aggression we – Ukrainians – will stay calm and strong. We trust Ukraine will prevail and win.
Paranoid Putin has absolutely no chance to win a land war against Ukrainians. Russians will be bathed in bloodshed in our cities, towns and villages. 200,000 unmotivated Russians is nothing against millions of spirited Ukrainians fighting for their land, freedom and families.
1. He can, however, kill a large number of civilians and partly destroy Ukraine from air.
As Ukraine faces an escalating military invasion right now we urgently need support in lobbying a No-Fly Zone over Ukraine.
This practice was used earlier in Libya in 2011 when NATO suspended all flights over the country's territory.
This crucial military action should be introduced to protect Ukraine from Russian jets, drones, and missiles.
It's basically up to the West if they will let Putin do continuous devastating air-strikes.
We'll do our fighting and defeat Russians on the ground.
Introduction of a No Fly Zone over Ukraine would be the best option to avoid large scale civil casualties.
We need your political support for lobbying this.
2. On the broader scope of relevant issues, the world must also act immediately as future of Europe & the world is at stake. To do list that we request and expect:
1. Devastating sanctions on Russia NOW, including SWIFT, embargo on Russian oil, gas.
2. Fully isolate Russia by all means, in all formats.
3. Full-fledged large scale supply of modern weapons, equipment for Ukraine.
4. Financial assistance
5. Humanitarian aid
A friend in need is a friend indeed. We appreciate your practical support and assistance in this existential crisis and threat.
We stand for our freedom, as well as for freedom of Europe and in the whole world.
Viktor Vovk
Former member of the Conservatives groups in the PA OSCE and Council of Europe PA"
BJÖRN SÖDER